On Independence Day we celebrate America's heritage, our freedoms, and the people and institutions that shape our nation. Still looking for a way to celebrate, even after the fireworks, parades, and backyard barbecues come to an end? We've handpicked several Catalogue nonprofits that embrace our nation's history, its people, and our future: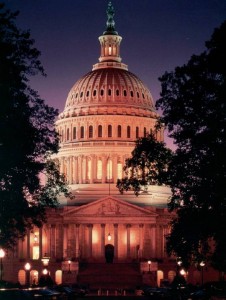 Celebrate our nation's history with the United States Capitol Historical Society
Recent surveys reveal a woeful lack of historical education in the United States, and this is true even for DC students who live in a city with a wealth of learning opportunities. But many have never even visited the Capitol. The non-partisan (and non-governmental) US Capitol Historical Society is committed to turning things around. Programs focus on landmark legislation that has shaped the nation, the remarkable art and architecture of the Capitol, the cultural and ethnic diversity of Congress, and other topics that bring history and government alive. The "We the People" Constitution Tour helps eighth grade students understand their government and take pride in their city; Capitol Literacy activities, youth leadership forums, and traveling exhibits spark an early interest in government for elementary and secondary school students. The Society also works to make the Capitol more comprehensible to visitors from around the nation. Working closely with the National Archives, US Congress, the Library of Congress, and others, the Society will always stand up for historical literacy. You can stand with them.
Thank our Troops with Thanks USA
In 2005, Virginia sisters Rachel and Kelsi (then ages 10 and 8) saw first-hand the hardships faced by a military family when a friend's father returned from Iraq severely injured. In appreciation of the family's sacrifice, the sisters launched ThanksUSA the following year. Through its scholarship program, it empowers military families — children and spouses of military personnel — to expand their education and skills through college, technical school, or vocational training programs. Some scholars train in new, higher-earning fields, while others enroll in college for the first time, or seek out more "portable" careers in real estate, healthcare, and education. Priority is given to families of the wounded and fallen, and while all scholarships are based strictly on financial need, scholars go on to earn an average 3.5 GPA. A dynamic online American History Treasure Hunt raises awareness of the program, and an alumni network connects graduates across the nation. To date, scholarships totaling more than $10 million (with 11.5% awarded in DC, Virginia, and Maryland) have helped say "ThanksUSA!"
See also: Operation Second Chance, Our Military Kids, Yellow Ribbon Fund
Celebrate freedom of press by supporting Fund for Investigative Journalism
Freelance journalists are in a tight spot: subject to financial pressure, intimidation, and even threats, they lack the protections offered by major media outlets. Yet they remain dedicated to investigation, balance, and 'the story' — and the Fund for Investigative Journalism backs them up. By covering the reporting costs that freelancers often cannot afford, it advances crucial investigative projects in the US and around the globe. The four dozen grants awarded annually cover camera and recording equipment rentals, the cost of ordering public records, and travel expenses for meeting sources (nearly half of the grantees take their investigations abroad). Over the years, FIJ-sponsored writers have garnered two Pulitzer Prizes, two National Magazine Awards, and the MacArthur "Genius" award. But the real beneficiaries are readers and citizens: reporters have exposed toxic agricultural products sold in Kenya, companies that sold overpriced (and unaffordable) seed to impoverished farmers overseas, and destitute conditions abroad that led to human trafficking in the US. With your support, they will continue to write stories.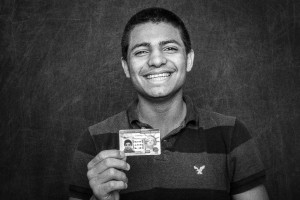 Celebrate our nation's rich diversity with Ayuda
Since 1973 Ayuda (which means "help" in Spanish) has welcomed tens of thousands of immigrants who want nothing more than to get a new start in "the land of opportunity." But for so many foreign-born residents (one in eight in DC) simply asking for help is a challenge. Without a solid grasp of the language or legal system, they don't know where to go or whom to trust. So Ayuda provides a wide range of immigration and family law assistance, as well as social services support, for all immigrants — men, women and children — from anywhere in the world. Along with representation in family- and humanitarian-based cases, Ayuda offers comprehensive services for immigrant survivors of human trafficking and domestic violence — many of whom fear that the police, courts, and even shelters will not protect them. It also offers desperately needed, specialized advice and representation to abused, neglected, and abandoned immigrant children. Ayuda gives clients the opportunity fully and comfortably to call their new country home.
See also: Capital Area Immigrants' Right Coalition, Just Neighbors, Liberty's Promise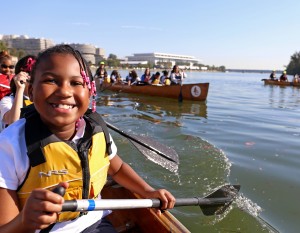 Discover American parks and public lands with National Park Trust
National Park Trust is committed to getting kids unplugged, outside, and inspired by the natural world. Its signature Buddy Bison School Program has engaged 16,000 youngsters with American parks and public lands — 6,000 from the DC metro area alone — providing teachers with hands-on resources for science and history classes that enhance existing school curricula. And the benefits to children's brains and bodies are undeniable: studies show that spending time outdoors eases symptoms of depression and ADHD, and helps curb obesity and diabetes. To create opportunities for kids to visit local, state, or national parks, NPT handles the logistics and covers transportation costs (the primary obstacle for most schools). From park trips, to canoe adventures, to service projects, the Trust has made conservation relevant and exciting for thousands of DC-area youth. After all, preservation is at the heart of NPT, which has overseen 100 land projects in parks, forests, and wildlife refuges. The goal of the Trust's education programs? Cultivating future park stewards and conservationists.
Encourage the next generation of leaders with LearnServe International
What if every high school student graduated with the vision of a leader, the tenacity of an entrepreneur, and the passion of a change-maker? LearnServe empowers DC-area students to become a new generation of leaders, equipped with the 21st century skills and the motivation they need to transform their communities. The Fellows Program teaches participating high schoolers the fundamentals of business planning and entrepreneurship, and then guides them as they create and launch their own "social ventures." One student founded a scholarship program for children of incarcerated parents; one mobilized teams of peers to teach a hands-on science curriculum at local elementary schools; and another launched a high school financial literacy program. LearnServe also offers summer service-learning trips to Paraguay, Zambia, and Jamaica, where students support ongoing development efforts in poverty, HIV/AIDS, education, and the environment (70% receive financial aid). Since 2004, LearnServe has engaged 800 students at nearly 50 DC-area schools, inspiring kids first to change their communities … and then the world.
See also: Education Pioneers, Global Kids , Atlas Service Corps, AVODAH:The Jewish Service Corps, Public Allies Washington, DC, Ghandi Brigade Youth Media , Docs in Progress