Jasmine's success, and the success of her community, has been driving her for a long time, but especially since she returned home in October 2020 from a 15-year prison sentence.
Last year brought challenges for everyone. Combining the challenges and barriers of COVID-19 with the stigma of being a returning citizen, Jasmine was faced with a choice: return to the life of her past or continue to fly high. Only weeks after choosing the latter, Jasmine connected with the DC Department of Employment Services' (DOES) Project Empowerment Program for supportive services, job coaching, employability and life skills, for DC residents living in areas with high unemployment or poverty. It was there that she was introduced to Suited for Change.
From beginning to end, Jasmine describes her experience with the volunteers at Suited for Change as "Amazing. From the moment I stepped in, I felt comfortable, even though I've never had an experience like that. It was like I was at a photo shoot," Jasmine recalled. While there, volunteer Marianne Clifford Upton helped Jasmine pick out clothes that made her feel comfortable and prepared her for her next steps.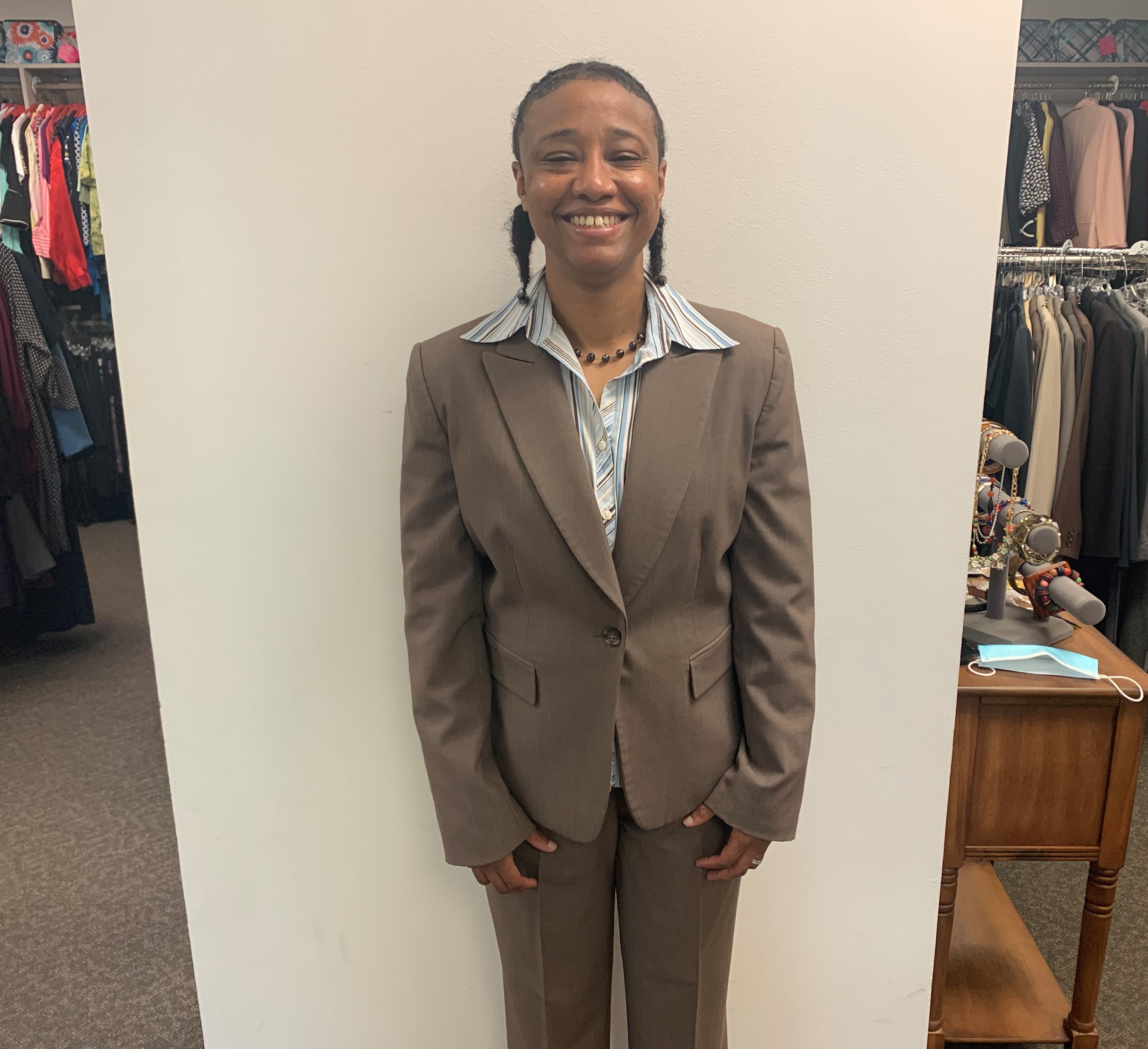 Jasmine remembers walking away from her first appointment feeling proud, confident and excited about the choice that she had made, and that was even before she was put in touch with her Suited for Change volunteer mentor coach who helped her prepare for her interview with the Congress Heights Community Training and Development Corporation.
Jasmine remembers her coach, Patricia Blackshire, being incredibly patient and working with her through job interview exercises.
"Patricia made me feel so confident in my skills. This experience was so new to me, but I walked away feeling assured that I was going to be able to obtain a job and do well." Each Suited for Change coaching session focuses on bolstering client confidence in their qualifications and tailoring their strengths for upcoming interviews.
After Jasmine successfully got a job as an Administrative Assistant with the Training and Development Corporation, she shared that she is most excited about her work for several reasons:
"Success just excites me, I'm so hungry to succeed because I know that through working here, I can continue to soar."
Jasmine also shared that she is excited about continuing to build her skills working for an organization impacting in her community. The Training and Development Corporation works to provide training and employment opportunities for people in economically depressed neighborhoods to help them and the surrounding communities. Jasmine is tied to the mission because it allows her to be a part of something that makes the path to success easier for people in her community faced with lots of hard choices.
Her experience at Suited, with DOES and now at the Training and Development Corporation have helped her immensely on her path to success, but Jasmine also attributes her success to others along the way like her mentor, Michelle West. Michelle was a fellow inmate with Jasmine and was influential in leading her towards her current path as a role model and mentor.
"Women like Michelle, who is a first-time offender facing two lifetime sentences, are my why. She taught me simple things like being early is being on time and looked out for me on my path to this choice."
Jasmine's excitement is infectious, and her drive to succeed is clear. Now that she is well on her way, having made her choice, there's clearly no stopping this woman on a mission. We here at Suited are glad to have been a part of her journey.