Quality, Accessible Health Care for the Whole Family
An interview with Craig Rice, VP of Community Engagement at Ronald McDonald House Charities of Greater Washington, DC (RMHCDC)
Q: What led you to get involved with RMHCDC?
CR: As a former elected official, this truly is a full circle moment, as one of the reasons I ran for office was my family's personal experience with long-term hospitalization and specialized treatment.
My cousin Trevor was born prematurely and received in-patient treatment at Children's National Hospital for a year while he grew strong enough to go home. Fortunately, my family and Trevor's mom, my Aunt Millie, lived locally. Everyone helped by taking turns staying with Trevor at the hospital, giving my aunt the time she needed to work and care for my other cousins. If my family had not been close by, the year-long treatment could have had devastating financial and psychological impacts.
A desire to ensure everyone has access to quality health care drove my role in local government and continues to fuel my passion for the mission of RMHCDC.
Q: Are there myths or narratives around care and health equity that RMHCDC is working to change? If so, what are they and how are you working to change them?
CR: There is a myth that treatment starts and ends at the hospital and only involves the patient. At RMHCDC, we know that treatment includes the whole family and ongoing support is needed where our families live and work. RMHCDC enables and facilitates family-centered care by ensuring a diverse population of familes with ill or injured children are fully supported throughout their health care journey.
"The support we received went beyond a warm meal, or a comfortable bed. Everyone saw us as the Bailey Family, not just a family with a critically ill child. Staff, families, and volunteers got to know us as individual people, not just a cancer family. It provided a sense of normalcy and strength that we wouldn't have otherwise gotten." — Alia Bailey
Our core programs help meet a family's psychosocial and basic daily needs, so they can focus more fully on their hospitalized child and be actively involved in their child's care. Through our Ronald McDonald House programs, we make it possible for families to be near their hospitalized child and the care they need, without the financial burden that's often associated with traveling to be near an ill or injured child.
In line with our commitment to achieving health equity, our Ronald McDonald Care Mobile programs provide underserved communities with access to healthcare at no cost to the families. We work closely with families, ensuring that they have access to ongoing treatment as needed.
Q: How does RMHCDC define family-centered care and why does it use this framework to approach its work?
CR: Family-centered care is an approach to healthcare where the entire family is supported, engaged, and involved in the care and support services provided to their child. Families with access to Ronald McDonald House Charities programs can better participate in their child's care and have a better hospital experience.
Q: How have things changed since RMHCDC was founded in 1980?
CR: Starting with one 16-bedroom house in 1980, we have since expanded our services to include two Ronald McDonald House programs with a total of 56 bedrooms, two Ronald McDonald Care Mobile programs serving underinsured and vulnerable children in the District, and our Hospitality Cart, "Cart with a Heart," operating at Children's National Medical Center and Inova Children's Hospital, providing bedside amenities and comfort to parents and other caregivers while they remain with their hospitalized child.
In recent years, we have also removed the mileage requirement, allowing more families in our community access to our programs. Newly opened oncology treatment units and the creation of specialized disease centers at two major area hospitals have increased the number of families in need of our services annually, as well as diversifying the population we serve.
Q: How does RMHCDC collaborate with other stakeholders — individuals, organizations, etc. — to better serve its community?
CR: In pursuit of our mission to ease the hardship of children's illness on families, community, individual, and corporate partnerships are critical to meeting the unique needs of the population we serve. From clinical service providers that deliver care in our Ronald McDonald Care Mobile programs and hospital partners that welcome our Cart with a Heart on their pediatric units, to the thousands of donors that give their time, talent, and treasure, we are truly Built by Love.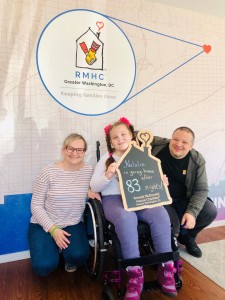 Q: What makes you feel optimistic about your work and/or this sector?
CR: Seeing the impact that our work has made on the families we support makes all the difference to me. I'm humbled by the many individuals and organizations that come together to allow us to support these families.
Q: Is there anything you aren't often asked about your work that you'd like to share?
CR: A question many have is about our relationship with McDonald's. We are grateful to call McDonald's Family Restaurants our Founding & Forever partner since 1974. The generosity of time, funds, and in-kind services provided by the entire McDonald's community have positively impacted millions of children and their families.
Although McDonald's is our largest corporate partner, no single individual or partner can fully support RMHCDC as a nonprofit serving thousands. We rely on the support of our entire community to help deliver our mission. Donations from individuals and other corporate partners are critical to providing the services our families need.
Q: What can interested readers do to support RMHCDC's work?
CR: Everyone has something to offer and we have a place for you. There are numerous ways to get involved and we encourage you to visit our website to get started!
For our upcoming 13th Annual Red Shoe 5k at National Harbor on October 8th, we encourage folks to register and create a team, fundraise, sponsor, or simply help us to spread the word to friends and family. Join us to Raise Your Feet To Raise Hope For Families and help us raise critical funding that will support our mission and the families we serve.