Powerful Stories from the Mid-Atlantic Innocence Project
Highlights from MAIP's 14th Annual Awards Luncheon
Written by Mid-Atlantic Innocence Project
The Mid-Atlantic Innocence Project's 14th Annual Awards Luncheon, held on June 28, 2023, was an amazing success! This year, our luncheon theme was "Share Your Story." We heard moving stories from our clients, recognized the storytellers and their important work amplifying the voices of the wrongfully convicted, and celebrated our amazing supporters, without whom none of our work would be possible.
To kick off the program, MAIP clients David Boyce and Ransom Watkins opened with powerful stories. David, who was wrongfully imprisoned for 23 years, shared how he never stopped fighting to clear his name, and Ransom recounted how his mother's words gave him the strength to carry on during 36 long years of wrongful incarceration.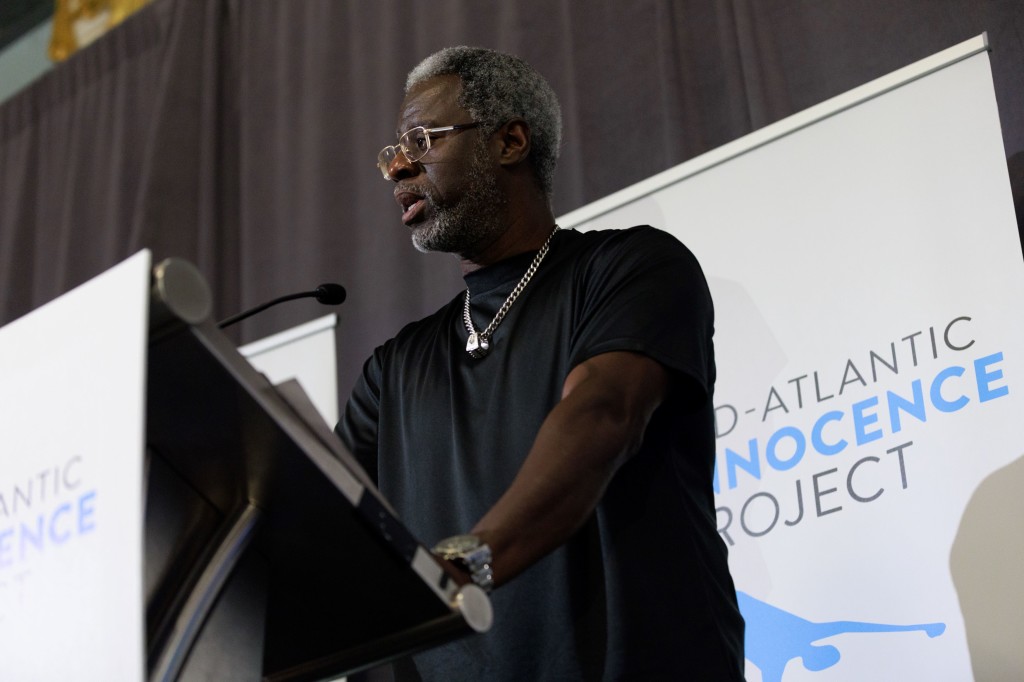 Storytellers ensure that the stories of David, Ransom, and other wrongfully convicted people are brought to light. We were thrilled to honor Jason Flom, Jeff Kempler, and their company Lava for Good with the Champion of Justice award. Through Lava for Good's podcasts, such as Wrongful Conviction, Jason and Jeff have amplified the stories of hundreds of wrongfully convicted men and women, including MAIP clients Clarence Jones, Thomas Haynesworth, and Keith Harward.
We were also proud to honor Patrice Gaines with the Defender of Innocence Award. Patrice's brave early writing about the 8th & H case for The Washington Post garnered national attention for this miscarriage of justice and ultimately led to MAIP's involvement. The eight men who had been wrongfully convicted in the case, including MAIP client and board member Chris Turner, presented the award to Patrice. It was incredibly moving to see Patrice reunite with the men.
One of the most impactful parts of the program was when we welcomed all of our clients in attendance to the stage. Each person stated his name and the number of years he had spent wrongfully incarcerated. Altogether, our freed clients have served more than 889 years in prison for crimes they did not commit.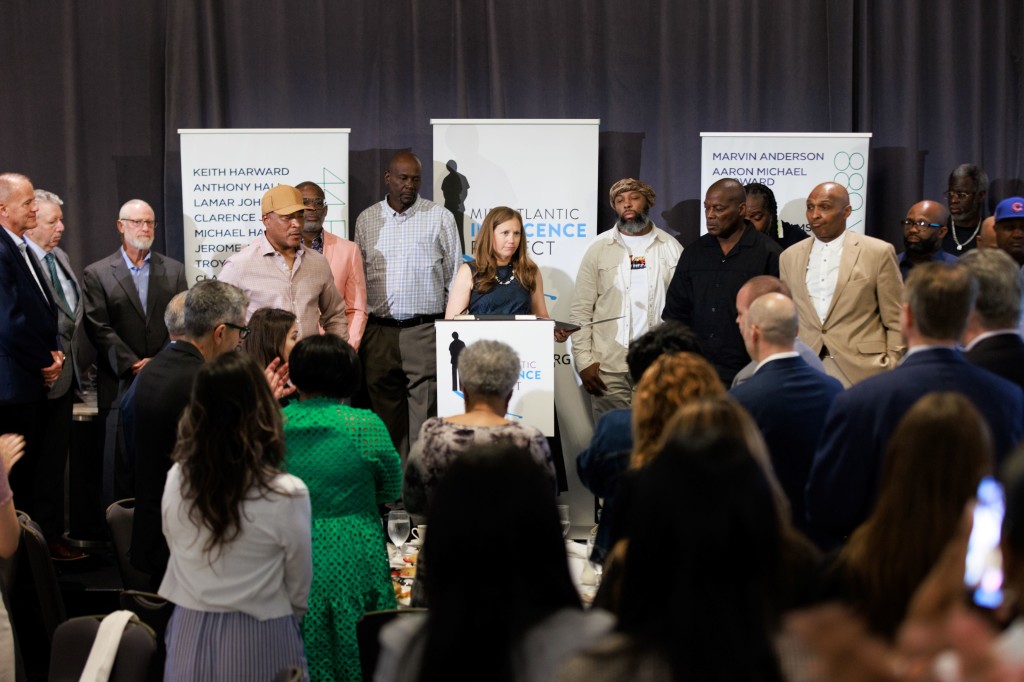 Finally, we recognized our outgoing board members, Julia Dahlberg and Andrew George. Without Julia's and Andrew's unwavering commitment to MAIP, we would never have grown into the organization that we are today.
We are grateful to everyone who joined us, and we would like to give a huge thank you to all of our sponsors, donors, and board members who made the event such a success!
The Mid-Atlantic Innocence Project works to prevent and correct the conviction of innocent people in DC, Maryland, and Virginia. MAIP has one of the highest success rates in the country for exonerating those who have been wrongfully accused. Visit their website to learn more, stay in touch, and support their work.