It takes tremendous courage for survivors of domestic violence to challenge their abusers in court. How then, as a public, can we hold courts accountable to ensure that survivors of domestic violence experience justice and safety during this difficult experience? For Court Watch Montgomery, this looks like training members of the community to go into the courts and report on what they see.
Court Watch Montgomery (CWM) is the only organization dedicated solely to monitoring intimate partner violence cases in Maryland. Its mission is to ensure that all survivors of intimate partner violence in Montgomery County and throughout Maryland have access to responsive justice and vital services that will stop abuse quickly and permanently. Trained on-the-ground volunteers monitor and collect data by physically observing cases in court, simultaneously holding judges and court personnel accountable for providing a safe and respectful court environment. Since 2011, CWM volunteers have collected data on more than 10,000 civil and criminal hearings.
"People don't think about domestic violence if it doesn't affect them or their life, but it affects all of us. As a society, it deserves our attention," said Leslie Hawes, the new Executive Director of Court Watch Montgomery. "Court Watch brings change in a systematic and meaningful way by collecting data from in-person court monitoring of domestic violence cases. We then put that data together to see trends and make impactful recommendations, with the hope of making a difference for the victims in our county."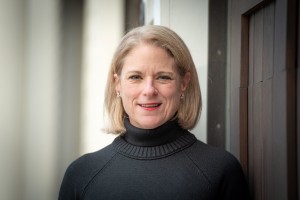 A longtime Maryland resident, Leslie brings ten years of experience as a corporate attorney in federal and state litigation and fifteen years of experience with nonprofits to her appointment as CWM's new Executive Director. Having served on the boards of numerous nonprofits, including the Midwest Innocence Project, been a consultant to CEOs of nonprofits, and served as a court-appointed special advocate working with teens in foster care, she is passionate about leveraging her legal and nonprofit careers to meaningfully serve a vulnerable population in Montgomery County.
The one thing she hopes to change? How the court views and treats intimate partner violence cases. "It's things like reminding the judges that they should ask whether the abuser possesses a firearm or requiring victims and abusers to have staggered exits through the courts," she said. "Something we also want to look at this year is whether cases of domestic violence have increased due to the pandemic as victims may feel more trapped in an abusive relationship due to economic concerns."
According to a report issued by the Montgomery County Council Office of Legislative Oversight in July 2021, the closure of the court system during the pandemic has resulted in a backlog that may take months or years to catch up on. This is a significant and long-term impact on domestic violence survivors, many of whom feel as if they cannot leave their situation until divorce or custody issues are addressed.
In addition, when courts closed, certain hearings were suspended or made virtual, which meant that access to justice then required access to technology. Even after courtrooms reopened, public access was largely restricted to be remote only for a period of time.
Despite these challenges, CWM's cadre of volunteers collected data remotely on 128 criminal hearings and 82 protective order hearings between December 2020-May 2021. Their preliminary findings were shared in a recent report, which highlighted the need for greater transparency given the likelihood of continued remote access to hearings. It also raised concerns about how remote access may be reducing the presence of attorneys and victim advocates, thereby negatively impacting the ability of survivors to be represented in court.
Now that volunteers have returned to full-scale monitoring in person, CWM is eager to further explore these pressing questions and report on more detailed findings.
If you are interested in volunteering, visit their website to learn more about their thorough training program–they go to court with you, teach you how to fill out the necessary forms, and partner you with 1-2 other volunteers. You can also follow them on Facebook and Twitter to stay updated on their work and reports, and to gain a better understanding of the domestic violence space.