Since 1991, Beacon House has provided afterschool education and youth development services to children in Northeast Washington, DC's Edgewood community. Our mission is to provide children in Edgewood with a safe, nurturing, and life-expanding community in which to increase their academic achievement, discover their talents, and grow into healthy adults who achieve their greatest potential. Our afterschool education and youth development programs focus on closing the education achievement gap for children ages 5-18 in Ward 5 for whom generational poverty is most persistent. Beacon House is a Black-led, Black benefitting organization located in Edgewood Commons, an affordable housing community in Northeast Washington DC's Edgewood neighborhood. According to available resident data, the average annual household income in Edgewood Commons is roughly $12,000 and only 56% of parents have high school diplomas. Most of the children we serve live in Edgewood Commons, and 96% are Black. Despite the racial and economic inequities they face, our students prove year after year that they can and will achieve educational success with our support. Since 2008, 94% of our graduating high school seniors went on to attend college or trade school or joined the military. Further, our students and alumni are making their mark on local and national stages in multiple areas of endeavor. They include the Teen Writers of Beacon House, the authors of The Day Tajon Got Shot, a national award-winning young adult book inspired by the Black Lives Matter movement. The DC City Council presented these ten remarkable teen authors with a ceremonial proclamation recognizing their accomplishments in February 2019.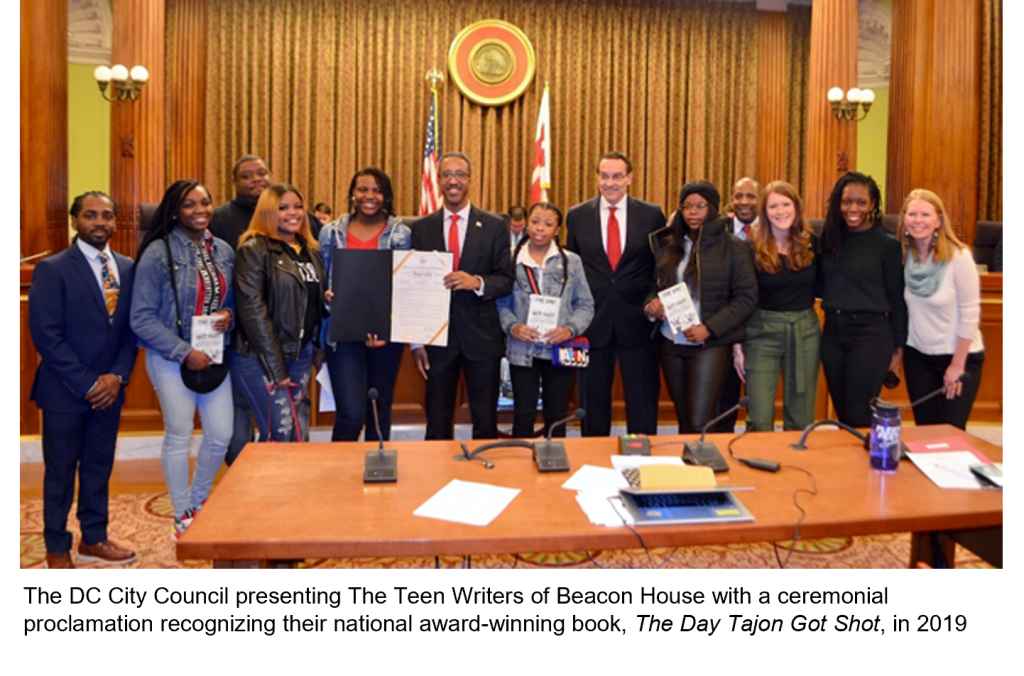 Beacon House is unique among greater Washington afterschool organizations as a place-based organization which builds relationships with children and families over many years. Scores of people who attended Beacon House now volunteer in our programs, and some now have children of their own who attend Beacon House. For these reasons and others, Beacon House has become an integral component of Edgewood's social fabric. In 2020, Beacon House parent Kyia Branham described Beacon House as "the root of this community" and "part of the glue that holds Edgewood together." On March 30, 2022, Beacon House will hold a 30th Anniversary Celebration Event at Heritage Hall of The Catholic University of America, a longtime Beacon House program partner. This event will begin at 6pm, and we are delighted that DC broadcast news legend Bruce Johnson will serve as our master of ceremonies for the evening. We will come together with program alumni, volunteers, partners, staff and other members of the Beacon House family to celebrate our 30 years of service and impact in Edgewood. For more information about the event and how to attend, please visit https://beaconhousedc.org/30th-anniversary, follow us on Facebook, Instagram, or Twitter (@beaconhousedc), or contact Beacon House CEO/Executive Director Kevin Hinton at khinton@beaconhousedc.org.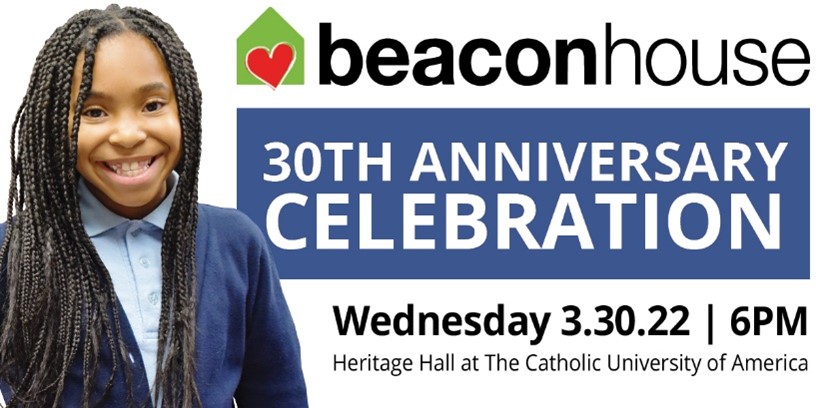 Looking ahead, Beacon House's role in creating safety and opportunity for children in Edgewood remains vital. Children we serve are up against historic challenges. Consequently, we are committed to work relentlessly every day, for as long as we are needed, to help our students achieve their greatest potential.