Written by Kristyn Burr, Executive Director and CEO of HomeAid Northern Virginia
This summer, HomeAid Northern Virginia proudly completed its 150th project of building and upgrading emergency shelters and supportive housing facilities for those experiencing homelessness! These 150 projects have spanned:
See a complete listing of HomeAid projects here.
We do this by connecting regional homebuilders and housing industry professionals with local nonprofit organizations focused on ending homelessness. Our building industry partners donate their expertise, time, and resources to renovate or build homeless shelters, housing facilities, and other spaces at little to no cost to the nonprofit service provider. Importantly, this allows HomeAid's nonprofit partners to allocate their scarce resources on programming and supportive interventions such as job skills training and mental health services that improve lives and greatly facilitate the transition out of homelessness, rather than on construction/renovation costs.
150th Renovation: Winchester Rescue Mission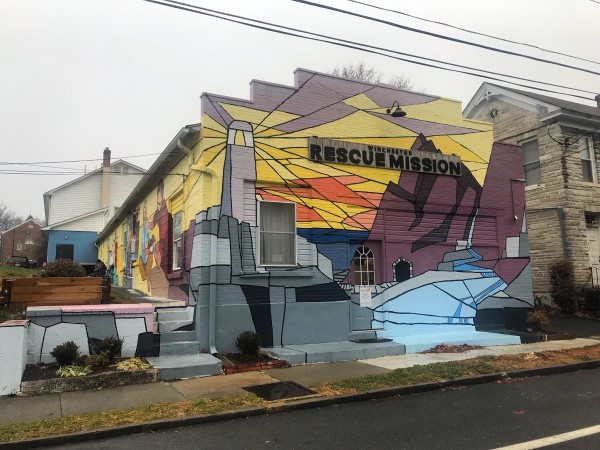 Our milestone 150th project is our recent renovation of the Winchester Rescue Mission, which provides safe and secure housing for 33 individuals, serves up to 80 individuals at its nightly dinner, and operates a community food pantry — all within a historic 1930′s building that was in dire need of upgrade. HomeAid Northern Virginia with our "Builder Captain" Dan Ryan Builders and three construction trade partners installed new flooring throughout the building, repainted the entire interior, and replaced flooring and tiling throughout.
"This facility is critical to carrying out our mission of supporting individuals who are experiencing homelessness, and some of our programs — such as providing meals and offering laundry and shower facilities for resident and community use — are components that we feel can keep others from becoming homeless," said Winchester Rescue Mission Executive Director Brandan Thomas, "There are so many in our community who are on the verge, and losing our ability to serve because of issues with our building would be truly devastating. We haven't been able to make any updates to the building since 1985, so this renovation is a gamechanger. The cafeteria is probably the most incredible example, with luxury plank replacing a really worn concrete floor that had layers of peeling paint. It is a beautiful facility now, and all of the other changes allow us to service people more fully and more efficiently. This building is a source of pride for our whole community now, and we are so grateful."
The Unique Challenge of Renovating Amid the COVID-19 Pandemic
It is important to note that the COVID-19 pandemic did not halt our work. Through deliberative and creative coordination with building crews, we were able to complete the Winchester Rescue Mission project and other projects already underway when the pandemic took hold. Balancing the need for worker safety, we and our building partners deployed small crews at different time intervals to finish projects.
In fact, construction is considered essential during these uncertain times, and new HomeAid projects continue to move forward today as housing and service providers prepare for a potential homelessness crisis in the region as coronavirus emergency protections end — and evictions begin. The need for supportive and affordable housing programs will be more keenly felt than ever. We are ready to serve and are looking strategically ahead to the next 150 projects in the coming years to build sustainable solutions to prevent and end homelessness and rebuild lives.
Real World Impact: Each Project Brings Hope & Dignity
Across our 150 projects, HomeAid Northern Virginia has invested more than $18 millionin building a better community and has generously donated $11 million in labor, time, materials, and expertise. This has real-world impact. This is money that our shelter partners can invest in people rather than on building projects, helping them with things like life skills and job training, rather than on building maintenance. This is money that means children have somewhere safe to go after school.
This is funding that helps close the enormous funding gaps that exist between what our community nonprofits need versus have — making a real difference in our ability to provide safe and stable places for the 167,000 people who have benefitted from our enhanced spaces as they work to regain their independence.
Most importantly, each of the 150 projects bring hope and dignity to individuals and families struggling to obtain stable housing and in need of critical wrap-around services. Adults and children experiencing homelessness can rebuild their lives in safe and dignified spaces thanks to our partnerships with homebuilders and construction trade partners who collaborate with us and our nonprofit partners to build solutions to end homelessness. These collaborative partnerships enable homebuilders to do what they do best (build!) and service providers to do what they do best (provide supportive programs and wrap-around services!). At the end of the day, our building projects rebuild lives and, as one of our nonprofit partners recently told us, "serve as a launchpad for new beginnings."
HomeAid Northern Virginia launched the HomeAid 150 Campaign to commemorate this milestone, engage supporters, and make a difference in the lives of those experiencing homelessness.
"It is so special for the women in our program to move into a beautiful and newly upgraded residence like this. It helps them to feel, sometimes for the first time, that they themselves deserve to live in a beautiful space. It really reinforces to them that they are in the next chapter of their story. It reinforces to them their responsibilities to themselves and to the program. When you live in a space that is beautiful, you have to maintain it. You have to put in the work– both in this house and in their lives, inside and out. HomeAid Northern Virginia truly created a beautiful space to serve as a launch pad for new beginnings."-Friends of Guest House executive director Kari Galloway