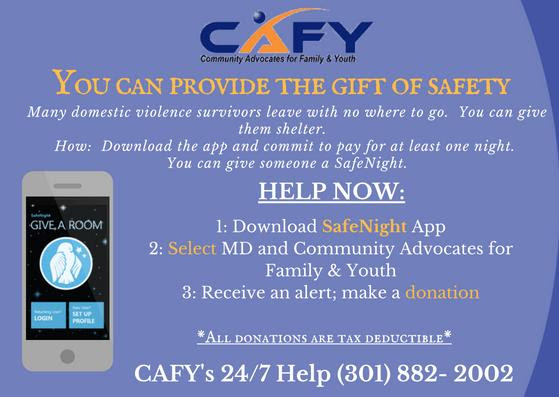 Community Advocates for Family & Youth (CAFY) is a non-profit victim services agency that works in partnership with the Prince George's County and City of Laurel Police Department. CAFY offers victim support services such as court companionship and financial assistance along with counseling and pro bono legal services. The newest venture coming out of their organization is the SafeNight app.
SafeNight sends an alert to its users when a victim of crime needs a place to stay and there is no available space in a shelter. Users can make an immediate anonymous donation to pay for a hotel room for the person in need.
"I was in a very stressful and trying, abusive situation," said one woman who was able to get shelter after she became a victim of domestic violence, thanks to a SafeNight donation. To protect her safety, the woman wishes to remain anonymous. "That's what I needed, was time to think, reflect, gather my thoughts so I can know which way I'm going," she said.
"We really believe we can place hundreds of people, that we can be in a position where no one is turned away when they're trying to get out of danger or trying to leave a domestic violence situation," Arleen Joell, the Executive Director of CAFY, explains.
It's so simple to become a SafeNight donor:
1. Search in your app store for "Safe Night" (available on iPhone and Android).
2. Select "MD" and click "Community Advocates for Family and Youth."
3. When survivors contact the organization for help, an alert is sent out to donors.
4. Donors can accept the request and make a donation.
Donors do not have to live in the DMV area. You can sign up anywhere. Once a survivor goes to the hotel, oftentimes escorted by police, the funds are released. All donations are tax deductible.
If you or someone you know needs help, CAFY can be reached 24/7 at (301) 882-2002 and online at www.cafy.org