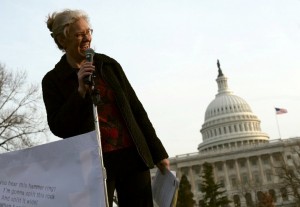 "Poetry will not be denied. Even as I worked myself to the point of burn out, poetry kept calling to me."
"I was lucky to discover and help foster an incredible community of engaged poets here in DC and the surrounding area, poets of all ages, poets in the community and the academy, poets working in all styles."
In honor of Poetry Month we welcome Sarah Browning, Executive Director of Split this Rock. Split This Rock cultivates, teaches, and celebrates poetry that bears witness to injustice and provokes social change. Sarah previously worked supporting socially engaged women artists with WomenArts and developing creative writing workshops with low-income women and youth with Amherst Writers & Artists.
What motivated you to begin working with your organization?
Can I go back 30 years? In a poetry workshop in college, my professor told me not to write socially engaged poetry, political poetry, poetry that looks outside the self to the horrors and beauties of the wider world, dismissing poetry's ancient history of examining public life, naming injustices, and inspiring us to believe that a better world is not only possible, but essential. I came away from that workshop disheartened and discouraged. If what I a lifelong activist was writing wasn't Real Poetry, then why bother? So I went off into the world of organizing for social change, first in public housing and then for a statewide multi-issue progressive organization, in Massachusetts.
But poetry will not be denied. Even as I worked myself to the point of burn out, poetry kept calling to me. I wrote only three or four poems over the next eight years or so; I came to feel that my heart was shriveling, that I would be no good to anyone if I couldn't find a way to put poetry back to the center of my life.
Fast forward 10 years and my move to Washington, DC, in the fall of 2002. I had by now been writing steadily and publishing poems even some political ones in literary journals. And what a time for an activist poet to land in the nation's capital! Just a year after the attacks of September 11, with a president threatening war against a nation, Iraq, which, though ruled by a murderous dictator, had played no part in the attacks of the year before.
I became involved in the world-wide movement against war and started a local branch of Poets Against the War, an international uprising of poets bringing the challenge and succor of poetry into that activism. I was lucky to discover and help foster an incredible community of engaged poets here in DC and the surrounding area, poets of all ages and races/ethnicities, poets in the community and the academy, poets working in all styles.
After several years of powerful local programming, which gave a platform to poets and inspired those working against the war, infusing imaginative language into the movement , the group decided it was time to do something on a larger scale. Being here in the capital, we felt we had not just the opportunity but the responsibility to mobilize poets to play a role in the public life of the country, both to end the wars in Iraq and Afghanistan and to address the many social ills that plague our nation.
And so we dreamed into being Split This Rock Poetry Festival: Poems of Provocation & Witness and presented it in March 2008, on the fifth anniversary of the invasion of Iraq and in the midst of an historic election year. The event was a roaring success, bringing together hundreds of poets, activists, and dreamers from DC and around the nation for the first time. Its success and the very obvious need it addressed inspired us to create a permanent organization as a home for progressive poets.
I've worked as Co-Director and now Executive Director since, building with an incredible team of colleagues, board members, interns, activists, and volunteers a powerhouse national organization that mobilizes poets for social change, encourages the literary world to truly reflect the amazing, rich diversity of the nation, and bringing poetry to the lives of hundreds of DC-area teens through our internationally award-winning youth programs.
That was a very long answer to only the first question, I realize, but when you're a co-founder and the Executive Director, an organization is your baby, your passion. It was a long journey that brought me here.
What exciting change or innovation is on your mind?
Split This Rock has two big new projects on the horizon, in addition to the fifth Split This Rock Poetry Festival, coming up April 14-17, 2016. The first is a permanent online database we are building of all the poems we've published in our Poem of the Week series over the past five years, as well as contest winners and others. The database will be searchable by social issue, making it a valuable resource for anyone looking to enhance their rally, meeting, newsletter, worship service, potluck dinner, or indeed their soul with the invigorating and restorative language of poetry.
The other is Al Mutanabbi Street Starts Here DC 2016, a two-month festival to be held in our area January through March 2016, standing in solidarity with the people of Iraq and everywhere that freedom of expression is threatened. The festival is part of an international project of art and poetry, organized in response to a car bombing of Al Mutanabbi Street, Baghdad's historic bookselling street. Split This Rock will bring Arab and Arab American poets to DC, celebrating the poetry being written today by these peoples too often demonized by our elected officials, popular culture, and news media.
We will also present those doing the necessary and too-often unrecognized work of translating contemporary poetry from Arabic to English, making this poetry accessible to American and other English-speaking readers and audiences. And we'll encourage American poets to dip their toes into translation, with a series of fun, interactive workshops.
Who inspires you (in the philanthropy world or otherwise)? Do you have a hero?
I am lucky to be inspired by some extraordinary poet-activists of the 20th century, many of whom were women: June Jordan, Muriel Rukeyser, Audre Lorde, Adrienne Rich. Rukeyser wrote: I will protest all my life. I am willing to. But I have decided that wherever I protest from now on, and a number of people are doing this too now, I will make something I will make poems, plant, feed children, build, but not ever protest without making something.
What was your most interesting recent project/partnership?
In January, we collected poems that spoke against police brutality and for racial justice from all who wished to send them to us, then published them on our blog in a Virtual Open Mic, finally totaling over 150 poems in all. We received poems from all over the country and even the world, from poets of all ages and races/ethnicities, from published poets, performing poets, new poets, those who don't consider themselves poets at all. It's a stunning array of words of grief, rage, protest, love, hopefulness, imagination.
In collaboration with other organizations such as the Institute for Policy Studies, DC Ferguson, SolidariTrees, Code Pink, the Bill of Rights Defense Committee, and the DC Guerrilla Poetry Insurgency, we staged an event outside the US Department of Justice, reading poems from the collection and calling on the DOJ to enact the reforms outlined by the Ferguson Action activists. We had printed out all the poems and after a cold couple of hours, presented them a representative from the DOJ. It was a moving afternoon of bringing poetry straight to the halls of power.
What is the single greatest challenge that your organization faces (besides finances) and how are you dealing with this challenge?
Split This Rock is unique in our city and in the nation. We get requests every day for new collaborations and projects. It's incredibly exciting and affirming to know that our work resonates with so many, but we're having to learn how to say no. Our staff, though dedicated and dare I say brilliant, is still very small.
What advice do you have for other people in your position?
Being a founding executive director of a dynamic, successful organization that feeds people's souls and inspires them to action is tremendously gratifying. I feel privileged every day. But it can also be exhausting. I haven't been very good at it, myself, but I would urge any executive director (and especially women!) to take care of herself and set her own limits. No one does it for us. We need to build in time for our own creative work whether it's poetry, gardening, plumbing, or whatever feels like a real break and a respite from the constant demands placed on us. I also recommend taking your vacation time!
What's next/coming up for you?
The manuscript of my second collection of poems, currently titled Drinking as a Political Act, is circulating to presses and I'm hopeful that it will be published sometime soon. I'm now at work on new poems that are taking me deeper into myself though the world always is present. I'm wrestling with shame, its crippling power in the psyche, its use to control and demean women. My work often resides at this intersection of the personal and political, so, in this case, it's pretty scary. But that's the poet's job, to lay bare what thrives on silence, to excavate and expose. Onward!